News
Zoom talk on Marble Hill Park through 120 years of postcards
6.00pm Tuesday 8th September 2020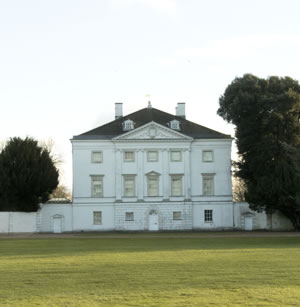 Join Alan Winter (who writes the local history column in the weekly digital newspaper the "Twickenham and Richmond Tribune") on Tuesday evening for half an hour as he takes you for an anecdotal stroll around Marble Hill Park and its environs, illustrated by original postcard images going back 120 years or so.
Local historian, Alan Winter grew up in 1950s on Orleans Road. Marble Hill Park became his back garden and playground. His talk will be focused around Marble Hill and illustrated with picture postcards spanning the whole of the 20th Century.
After a 20-minute talk there will be a Q & A session
To register for FREE click HERE
Marble Hill is being revived. The work will see a house reinterpreted and restored and open 5 days a week for free, the landscape invested, jobs created, renewed sport facilities and lots of events like these. The cost is free but we ask for a suggested donation of £5 to go towards Marble Hill which costs £200, 000 per year to run.



This has been made possible by a National Lottery Heritage grant
Marble Hill Autumn Zoom Lecture Series (Click HERE for more details)

This is a Richmond Environmental Information Centre lecture presented by Marble Hill
Trevor Baylis CBE
It is with great sadness that we announce the death of our patron Travor Baylis CBE, inventor of the wind-up radio.
Heritage Lottery Grant
'Lidos Alive' memories project awarded National Lottery grant
The Richmond Environmental Information Centre (REIC) is pleased to announce that the charity has been awarded a Heritage Lottery Fund (HLF) grant of £27,968 to carry out a Memories project about the lidos of the boroughs of Twickenham and Richmond (which became the London Borough of Richmond upon Thames in 1965).
There is a lot of interest in maintaining existing lidos and reviving lidos throughout the country and our borough is no exception. The lidos in the borough – past and present - include Twickenham, Mereway, Teddington, Bushy and Richmond.
Thanks to support from National Lottery players, Lidos Alive will explore the history of our local lidos through archival research and recorded memories. We will aim to engage a number of local residents in the collection of their memories and will disseminate this information to a wide audience.
The project team will compile a history of the local lidos using the local studies library, newspaper archives and the National Archives.  We will also collect photographs and other memorabilia such as programmes. There will be public access to all this information through a dedicated website and publications as well as exhibitions and public talks. Selected memories and photographs will be recorded in a booklet about the project.
REIC Vice Chairman Berkley Driscoll said "We are thrilled to have received support thanks to National Lottery players and are confident the project will engage with many people of all ages".
REIC's Chairman's Report for 2016
It has been a year of consolidation for REIC projects. "The Most Famous Ice Rink in the World", funded by The Heritage Lottery Fund, has been completed and the final report well received by the sponsors. We have given illustrated talks to the Barnes & Mortlake History Society and to a Richmond Church Group, that have been well received despite the facilities available not having been always ideal. A further talk has been booked in at Hampton for December 2017. An exhibition of results of a previous project, Memories of Twickenham Riverside, was given at Café Nero as part of "The Streets" event.
Publication of research on The WW1 Fallen from St Mary's Parish is in the progress as I write, and the fruits of our labour should be available at the AGM. Many thanks are due to The Borough of Twickenham Local History Society for agreeing to publish this, and for meticulous and speedy editorial work.
Children took to the River during the annual Charlie Shore Regatta, organised once more by REIC in collaboration with Twickenham Rowing Club.
We look forward to our collaboration with the East Twickenham Centennial Group in their celebration of "The Belgian Village on the Thames" during The Great War.
Flooding is a matter foremost in the minds of many residents, and plans are being developed to hold a public meeting on this problem, and also to launch a major initiative, in collaboration, it is hoped, with other groups.
A quick note on finacial matters: the CAF Bank, with whom we have a modest account for several years, announced in the summer that they would in future levy charges of £5 each month. Because of this, the account was closed and transferred to HSBC. I apologise for not having acted speedily enough to prevent £10 being taken from the account before closure.
Jeremy Hamilton-Miller
February 2017
Chairman's Half-Yearly Report June 2016
Our flagship project, The most Famous Ice Rink in the World, has been completed.  This has been very successful, involving hundreds of interviews and the gathering of a host of fascinating material.  A hardback book has been produced, and icerinx.com tells the full story.  Some archive material has been deposited at the Local Studies Library in Richmond.  Great credit to Teresa and Berkley for their hard work.
Meanwhile, Sue and I have almost completed researches on the WW1 Fallen from the Parish of St Mary's.  This has involved three enjoyable but poignant visits to France and Belgium to view graves and pay respects to the Fallen.  We presented a wreath at The Menin Gate in honour of those with no known grave.  A publication is expected soon.  As the one-hundreth anniversary of the start of the Battle of the Somme is almost here, I would draw to your attention to the fact that twenty parishoners  fell during those fearful four months.  Some relevant material has been submitted to add to the Council's initiative on WW1 Memories, coordinated by Daniella Hadley.  I would encourage others to join this;  I am happy to provide simple guidelines to researching names on memorials.
John continues to emphasize dangers of flooding, both locally and nationally, and has made suggestions how its effects could and should be mitigated.
Turning the environmental matters: the debate on power sources continues, especially ways of generating electricity.  We seem to be reaching crisis point, as windpower and solar panels will clearly never fill any gaps, and progress on building nuclear plants has virtually stopped, while shut down of coal fired stations continues unabated.  It should be remembered that we will always need carbon-based fuels, however much electricity is generated by other means (as yet uncertain), as discussed by a speaker at a recent U3A meeting.  Professor Sir David MacKay has  pointed out that the majority of emissions are due to transport, heating and food production, not electricity generation.  We are encouraged to switch off our phone chargers when they are not being used, but doing this saves a negligible amount of energy compared with that used in one cart journey.  The only answer is reduced consumption, with all the personal consequences that that implies.
My views on the causation of climate change have not altered.  A few positive features of global warming are worth mentioning: increased CO2 levels will mean plants will grow in greater profusion;  increasing temperatures will reduce overall death rates, as excessive heat kills fewer than does excessive cold;  severe hurricanes from increased global warming in the future will in fact decrease rather than increase global economic damage, as increased ferocity is more than offset by increased prosperity (as published recently in Nature).
Finally, a recent very authorative report shows that GM food is safe (see Times 18 May).  It is now surely time for relaxation of the very repressive EU regulations that make it extremely difficult to grow GM crops in Europe.
Jeremy Hamilton-Miller
Chairman, REIC
REIC Chairman's Report for 2015
The HLF-funded project "The Most Famous Ice-Rink in the World" is very nearly complete.  The book of memories, 105 pages long, lavishly illustrated and with an introduction by Torvill and Dean, has now been published.  There are various links at www.icerinx.com that illustrate the many aspects of the research done by Teresa and Berkley over the past 18 months.  We were especially fortunate to have been able to collaborate with Elaine Hooper, Archivist at the National Ice Skating Association.  Besides contributing many photographs and other memorabilia, Elaine very kindly gave REIC the diaries of Richard Meacock, who worked tirelessly from 1992 until his death to secure the future of an ice rink in Richmond.  These diaries have now been lodged at the Local Studies Library in Richmond, where they can be viewed by the public.
Sue and I have also completed their work on the WW1 Fallen from the parish of St Mary's Twickenham, whose names are recorded in the church.  We have given illustrated talks to the Twickenham Society and the St Mary's Group.  We hope to publish our results in booklet form, possibly in collaboration with the Borough of Twickenham Local History Society.
REIC's  equipment for displaying Powerpoint presentations has also been used for benefit of the Twickenham Society and Friends of Turner's House.  I am most grateful to Berkley and Teresa for the time they have spent doing this.
Turning from parochial to wider issues, I noted with interest the deliberations of the delegates to the Paris Climate Change Forum.  I have expressed my own views on Climate Change previously (Annual Report for 2013, Half-year Report for 2015);  I contine to be exasperated  by the arrogant view that we mere mortals can significantly affect a global phenomenon like cyclic changes in climate.  Very recent events in the north of the UK show that money spent on wind farms could have been better spent on flood defences.  Flooding is an on-going consideration;  The EU Directive 2000/60/EC that mandates the restriction of dredging in order to conserve wildlife surely needs looking at again.
I am sure we were all very pleased about the ban on free plastic bags, brought in in October.  The charge of 5p seems to have had a marked beneficial effect
Litter continues to be a problem.  Nationally, it is estimated that 30 million tons are collected each year, at a cost of about £1 billion;  locally, two tons were collected after this year's Strawberry Hill House Music and Fun Day, and it was reported in the local paper that four tons were collected in Hampton Hill.  It is encouraging news that the Government has decided to increase fines for littering to a maximum fixed penalty of £150.  The problem of enforcement, however, remains. 
I would encourage everyone to sign the petition on change.org to Stop Food Waste in Europe;  this asks supermarkets to be allowed to give unsold food to charities, as opposed to disposing of it.   This petition has attracted over 750,000 signatures.
Turning finally to a personal thought:  on Christmas Day, when the family had left and we were clearing up, I surveyed the mountain of paper and cardboard wrapping, and the table groaning with food. For some reason my mind then slipped back some 70 years, and I realised the environmental impact of the consumerism I was looking at.  During (and for years after) the war, times I can remember well, when there was food rationing and shortages of pretty much everything else, we produced far less rubbish per head and were in fact a healthier nation (scientifically proved) than we are now.  Certainly nobody had much chance to become obese!  My hackles stand up when I hear the word "austerity" being banded about to describe present conditions.  For those who are interested, I include as an extra page a brief summary of what was "on the ration" in 1945.   Austerity today? Bah, Humbug!
Jeremy Hamilton-Miller
Chairman, Richmond Enviromental Information Centre www.reic.com January 2016
Chairman's Half-Yearly Report, June 2015
Perhaps we don't talk enough about the Environment at REIC.  So here are some of my thoughts (you might consider them prejudices or hobby-horses) on some burning topics of the moment.
Pollution.  This is defined in Chambers Dictionary as that which "makes dirty physically;  contaminates; makes offensive or harmful to human, animal or plant life".
The CEO of Keep Britain Tidy recently called upon the Government to appoint a dedicated Minister for Litter, to increase fines for littering and introduce a £1000 fixed-penalty fine for fly-tipping.  Gratifyingly, the Secretary for the Environment, MP Liz Truss, has responded by promising to grant the latter two wishes.
Certainly, there is need to do something, as shown by the unappetizing items I find on my periodic lItter-picking expeditions on the banks of the Crane.  Many of the things I find will take a long time to degrade (eg aluminium cans, plastics, glass and coated food wrappers), and as ferrous material rusts it becomes a physical and chemical hazard.  Food wrappers are attractive to scavengers such as foxes and squirrels, and being indigestible may cause problems.  Regular clearance of litter is the only satisfactory answer.  Siting of litter bins by bus stops is obviously a good idea.
Some items I deliberately avoid picking up, however.  There are dog faeces that have have been dutifully wrapped in plastic bags and then discarded on or beside the path.  While it is of course public-spirited to use the "pooper-scooper", to do so and then not put the bag in a bin if anything exacerbates the situation.  While unwrapped faeces are unpleasant, at least they will rapidly be washed away by rain or dry up and so virtually disappear from the environment.   Wrapped faeces left in the open are protected from the elements by the non-degradable bag, and thus can remain around for a long time.
Global warming. Those who dare to question the "inconvenient truth"(Al Gore's thought, not mine) that man-made emissions of carbon dioxide are responsible for global warming are called "deniers" (I prefer the spelling "denyers" as the alternative brings to mind a measure of the fineness of silk).   This confuses two issues (a) is the planet warming, (b) is any warming directly caused by man-made increases in carbon dioxide emissions?  I am happy to answer "yes" to the first question, but concerning the second – that everybody assumes has been proved – I await to be convinced.
It certainly seems that both mean global temperatures and ppm carbon dioxide in the atmosphere have increased during the past decades.  However, this alone is a far cry from being able to state that there is a cause-and-effect relationship.  Commonsense, helped by an elementary knowledge of statistics, tells us that this is not necessarily so.
There is a specific method to determine whether there is a causal relationship between two variables:  this involves what is called "intervention".  Such an intervention was suggested by the International Panel on Climate Change, namely to reduce the rate of carbon dioxide emissions and to determine whether there was a concomitant reduction in rate of global warming (it was not specified how long the experiment would last).  The result of such an experiment should give a definitive answer to the question.  Unfortunately, however, it has not been possible for this experiment to be carried out, as cutting emissions of carbon dioxide globally is in the hands of politicians not scientists, and the former have been unsuccessful.  I have to conclude that, with the present state of knowledge, the question must remain open.
Methane is more powerful greenhouse gas than carbon dioxide;  this is produced in large amounts from both ends of the intestinal tract of ruminants, such as cattle, and also from melting permafrost. These can hardly be called "man-made emissions".
I believe that it is at least worth considering Lovelock's Gaia Principle.   All natural phenomena, be they chemical, physical or biological in nature, react automatically to stress of any kind in such a way as to reduce the stress (in chemistry this is known as "Le Chatelier's Principle").  There seems no reason to suppose that the global eco-system does not follow such a principle.
It is quite clear, however, that we must prepare, as best we can, for living in a warmer world, and also that it is obvious we must do our best to conserve fossil fuels as much as possible, as they are a non-renewable resource and rich in valuable chemical compounds.
Until the question is answered, it does not seem reasonable to label people as either "believers" or "denyers";  instead, we should all be "climate change cautious".  It is worth reiterating the climate change has been occuring during the earth's entire existence;  the Sahara was once fertile, Greenland was green etc.  Such changes are cyclic.
Food for thought.
Power generation.  It follows from the argument above that I would be very happy to see all coal-fired power stations closed as soon as possible.  However, with this comes with the caveat that the nation has to have reliable supplies of electricity.  I submit that wind-power does not fit the bill.  It is not only intermittent, but wind farms ruin the landscape and damage birdlife.  I have never seen a proper cost effectiveness analysis of wind power, in terms of how much energy is used in constructing, erecting, maintaining and decommissioning each turbine vs how much energy it produces during its life span.  Harnessing tidal power seems a much more attractive option, but more research is needed.  I have reluctantly to choose nuclear power stations as the main source of electricity generation for the next decades;  for instance, these have served France well,  and we are happy to import power from that country.  Safety standards in the nuclear industry clearly need to be at the highest level.
I am disappointed by the general attitude toward fracking, as it seems at least worth considering the advantages of obtaining gas in this way, as has proved enormously economically advantageous in the United States.  The Green lobby, although their motives are mainly wholly benign, seem to exert a disproportionate influence among the general public.
GM foods.  It surprises me that while genetic modification as a means of creating superior strains of plants and animals by selective breeding is regarded as desirable and an excellent practice, deliberate manipulation of plants in the laboratory is regarded in some circles as akin to the production of a Frankenstein Monster.  Everything new has to be tested, otherwise nobody will ever know if it "works";  I experienced this for 40 years in my professional life working in a Medical School on drugs.  Ultimately there is no substitute for testing the real thing under the real conditions.  Destruction of test sites of GM crops is short-sighted (here, the recent former Head of Greenpeace, Stephen Tindale, agrees with me).
Badger culling and fox hunting.  Anyone who has lived on a farm and kept cows (my family) will know the financial loss and heartbreak that occur when beef and dairy animals have to be killed.  This is what happens if an animal is tested positive for TB.   Badgers carry TB, and it is passed to cattle.  Any scientifically based attempts to prevent this transfer are legitimate and to be encouraged.  If it doesn't work, stop; meanwhile, carry on to see whether it has the desired effect.   Cows are more important than badgers.
There is a similar message for those who wish to stop fox hunting.  Anyone who has kept chickens (my family) or peacocks (a close friend) that have been killed by a fox will justifiably wish the fox dead, because they kill in an indiscriminatory way, not just to eat. Hunting with hounds is, as far as I know, the most effective way to keep the fox population under control.  I agree that some hunting people act in a stupid and arrogant way, but that is not a reason to ban the practice.
Smoking.  I am by nature a libertarian, so basically my feeling is that if people wish to smoke, thereby knowingly shortening their life expectancy and paying large amounts of tax, as well as supporting the developing world by buying their product, this should be allowed (I write as an ex-pipe smoker, albeit a very light user).   I am not entirely convinced by the weight of evidence on second-hand smoke. I fully accept that many people find the habit repulsive, and the presently applied restrictions seem reasonable.
I would be very interested to see a full analysis of the world-wide financial consequences of smoking cessation, eg on tax revenues, workers in all the industries involved in cigarette production and sales (cultivation, curing, manufacture, export and in particular "corner shops").
I have probably written enough here to annoy people!  I would welcome discussion on the points I have raised.
Jeremy Hamilton-Miller
Chairman REIC
REIC's Chairman's Report for 2014
This Report should be read in conjunction with my half-yearly Report, sent out in June.
REIC members are currently involved in three main projects.  Two of these were mentioned in my earlier Report:

Sue and Jeremy have continued, with some success, their investigation into the backgrounds of the 129 named casualties of World War 1 commemorated on the Memorial in the churchyard of St Mary's Twickenham. This project was started by funds being raised to clean the Memorial, the condition of which had deteriorated over the years.  The fact that the inscribed names had become largely illegible had sparked our interest, especially in view of the centenary of the outbreak of WW1. We have visited numerous graveyards in France and Belgium maintained by the Commonwealth War Graves Commission to photograph the specific graves of the Fallen, and consulted many historical sources. Sue gave a short address to the St Mary's congregation on Remembrance Sunday, and we plan to give joint talk on our findings in the Church Hall, early in 2015.   A high spot in this project was laying a wreath at The Menin Gate (photograph).
We hope to be able to raise funds in due course to enable us to publish our findings.
Teresa and Berkley, following their activities described previously, have now submitted a grant application to the Heritage Lottery Fund for a full-scale project on The Most Famous Ice Rink in the World.  The ice rink project will begin in December. A collection of memories has already been lined up.
The Charlie Shore Regatta took place once again involving fifty-four children and financed with a grant from Sport London. This was the fourth of these Regattas since their revival by REIC in 2011.
John Perry chaired a public meeting, in conjunction with The Twickenham Society, on the problem of Flooding in this Borough.  This was filmed for BBC TV, and interviews with John and one of REIC's Patrons, Trevor Bayliss, were broadcast on BBC Local News on November 14.  John is hopeful of organising a larger and more comprehensive meeting during 2015.
News of projects from other members will be gratefully received
I wish to thank all my colleagues for their help and support during the past 12 months.
Jeremy Hamilton-Miller
Chairman REIC                                                                                                            November 2014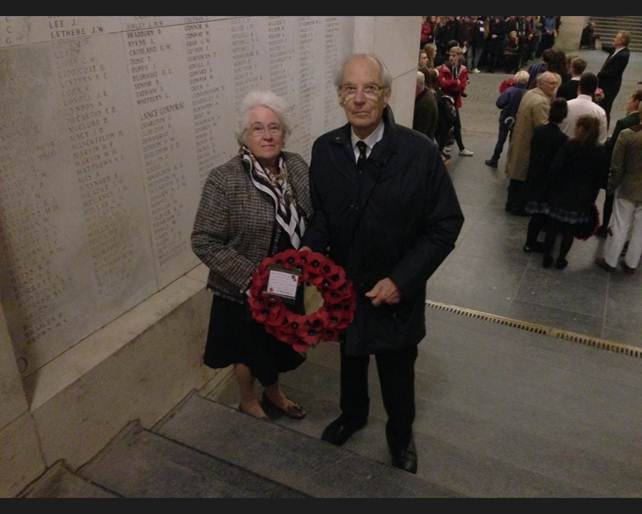 Sue and Jeremy Hamilton-Miller at The Menin Gate, October 2014
Chairman's Half-year Report, June 2014
Membership.  Duties of Membership Secretary have now devolved to the Chairman.  Reminders for membership renewal were sent out in January.
Projects. The cleaning of St Mary's War memorial, facilitated by Jeremy, is complete, and the Memorial was re-dedicated by the Vicar on 19 April.   Jeremy and Sue are continuing on a WW1 theme by researching the history of the Fallen from the parish of St Mary's, whose names are  recorded in the Church.

Jeremy has taken part again the the annual Keep Britain Tidy litter count.  This involved collecting and classifying litter picked up in a specific area over a 45-minute period.
Sue and Jeremy took part in the annual RSPB Birdwatch in January.
The Memories of Richmond Ice Rink project (on-going), funded by the Civic Pride Fund, has been considerably aided by the presence during December 2013 and January 2014 of the temporary ice rink in York House Gardens. A video on was produced and is viewable on YouTube http://www.youtube.com/watch?v=V93TwBNYnH8 and a booklet The Most Famous Ice Rink in the World, and thousands of postcards have been distributed asking for memories. Fifty skaters have been identified as willing to contribute. Importantly, contact has been made with the Archivist of the National Ice Skating Association, who has formally agreed to collaborate. Teresa, Berkley and Jeremy have had a lengthy face-to-face discussion with the Archivist, and much valuable historical information was passed over; this is currently being assessed. On the back of this project, Jeremy has compiled a Powerpoint presentation of the History of Ice Skating.

REIC Annual Report for 2013
This year has seen the successful completion of the project Memories of Twickenham Riverside, sponsored by the Heritage Lottery Fund; past progress has been referred to in last year's Report.   The final results are permanently available for the world to consult, on the dedicated website www.memoriesoftwickenhamriverside.com;  this consists of six related but stand-alone sections.  In addition to this material, a booklet on Richmond House and leaflets on Charlie Shore and his Regatta and The Queen's Hall (9 King St) were produced.  The latter items have been distributed where appropriate, and lodged at The Local Studies Library, Richmond.
The sponsors have obviously been impressed by this project, as following two separate detailed reviews the entire sum of money originally allocated was released (and spent).
The success of this project is due to the unremitting hard work of Teresa and Berkley, to whom great credit must be given.
The Charlie Shore Children's Regatta was staged again, this time in the original month (September). Twickenham Rowing Club (an associate member of REIC) arranged the races on behalf of Twickenham Alive and REIC.  Despite very depressing weather, a greatly increased number of rowers took part – there were 28 races, compared to 12 the previous year.   The event was a pronounced success, and was well reported in the local Press.
A D-Day dance was again held, at Twickenham Rowing Club;   popular local band Nark Drool and the Shudders played, and food was provided by The Royal Oak pub.
The Committee was very concerned to read about shooting of migrating birds in Malta, that appeared to be in defiance of EU Directive 2009/147.  A letter to the High Commissioner of Malta eventually resulted in an unsatisfactory reply, and we raised the matter with Syed Kamel MEP and our Patron Zac Goldsmith MP.  Unfortunately, it later transpired that Malta had derogated from the Directive, meaning that this disgraceful conduct is allowed to continue.
Your Chairman is in the process of obtaining funding for cleaning the war memorial in St Mary's churchyard.  A report was made by a conservation architect and a quotation obtained from a specialist craftsman.  An initial approach to The War Memorial Trust was not useful, as although the project was judged suitable, funds would not became available until after the work had been done and paid for.   In consequence, application has been made to the Council's Civic Pride Fund, in the name of St Mary's Church (REIC could not apply in its own right, as a grant has already been obtained from this Fund – see below). The application has been successful, and work should go ahead in the New Year.
REIC has obtained funding of £2.5K from the Civic Pride Fund for a project on the Oral History of Richmond Ice Rink.   This is closely coordinated with the initiative by Twickenham Alive to organize a temporary ice rink in the gardens of York House from November 2013 to January 2014.   A booklet of "reminiscences" has been produced, to be given to every visitor to the rink.  This project is on-going, and will result in a definitive publication.
Finally, a personal note on environmental matters currently in the news.   Your Chairman supports nuclear power stations, fracking, GM foods, and the need to avoid TB spreading from badger to cow; he remains unconvinced that human activity causes global warming;  he is against wind farms, expansion of Heathrow and the hunting ban; he is ambivalent about HS2 (perhaps it should start in the north?)  These beliefs are the result of my upbringing on a dairy farm, my scientific training, and "gut reaction".  They are not necessarily shared by my colleagues.   I welcome debate on each and every topic.
Many thanks to my colleagues for their support during the year, and for their friendship
Richmond House
A forty page book has been published "Richmond House and its Inhabitants" as part of the Heritage Lottery funded project. The author is Sue Hamilton-Miller (with assistance from Professor Jeremy Hamilton-Miller, Chair of the REIC). The story of Richmond House has been one of the most exciting finds of the project. Extensive primary research has been carried out uncovering an insight into the lives of the rich and famous who used to live on the land which is now known as Diamond Jubilee Gardens. One surprise has been the discovery that the ancestors of Kate Middleton, Duchess of Cornwall lived on the old pool site.