REIC home
Zoom talk on Marble Hill Park through 120 years of postcards
6.00pm Tuesday 8th September 2020
Join Alan Winter (who writes the local history column in the weekly digital newspaper the "Twickenham and Richmond Tribune") on Tuesday evening for half an hour as he takes you for an anecdotal stroll around Marble Hill Park and its environs, illustrated by original postcard images going back 120 years or so.
Local historian, Alan Winter grew up in 1950s on Orleans Road. Marble Hill Park became his back garden and playground. His talk will be focused around Marble Hill and illustrated with picture postcards spanning the whole of the 20th Century.
After a 20-minute talk there will be a Q & A session
To register for FREE click HERE
Remembering Mereway Bathing Place
The Richmond Environmental Information Centre (REIC) has been awarded a Civic Pride grant (2019) to produce and erect a permanent history board at the site of Mereway Bathing Place, on the River Crane, which was the first organised swimming venue for many school children and local residents on the Twickenham side of the Thames.
This follows on from the REIC's Heritage Lottery funded history of outdoor swimming Lidos Alive.
The project story is available on the Lidos Alive website. A book, produced by the REIC, is available either by post or from Crusader Travel in Church Street, Twickenham.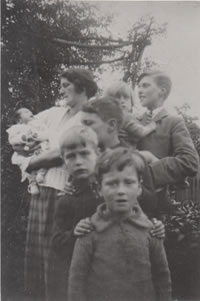 Brenda Whittaker, who took part in the project, has provided a lovely photograph (left), taken in 1928,of her uncles who learnt to swim at Mereway Bathing Place.
"my grandmother with her six sons who as I said all learnt to swim at Mereway Road."
Photograph Copyright: Brenda Whittaker
If you have any stories or photographs to contribute, please contact us at info@reic.uk.com
Heritage Lottery Grant
'Lidos Alive' memories project awarded National Lottery grant
The Richmond Environmental Information Centre (REIC) is pleased to announce that the charity has been awarded a Heritage Lottery Fund (HLF) grant of £27,968 to carry out a Memories project about the lidos of Richmond upon Thames.
There is a lot of interest in maintaining existing lidos and reviving lidos throughout the country and our borough is no exception. The lidos in the borough – past and present - include Twickenham, Mereway, Teddington, Bushy and Richmond.
Thanks to support from National Lottery players, Lidos Alive will explore the history of our local lidos through archival research and recorded memories. We will aim to engage a number of local residents in the collection of their memories and will disseminate this information to a wide audience.
The project team will compile a history of the local lidos using the local studies library, newspaper archives and the National Archives. We will also collect photographs and other memorabilia such as programmes. There will be public access to all this information through a dedicated website and publications as well as exhibitions and public talks. Selected memories and photographs will be recorded in a booklet about the project.
REIC Vice Chairman Berkley Driscoll said "We are thrilled to have received support thanks to National Lottery players and are confident the project will engage with many people of all ages".